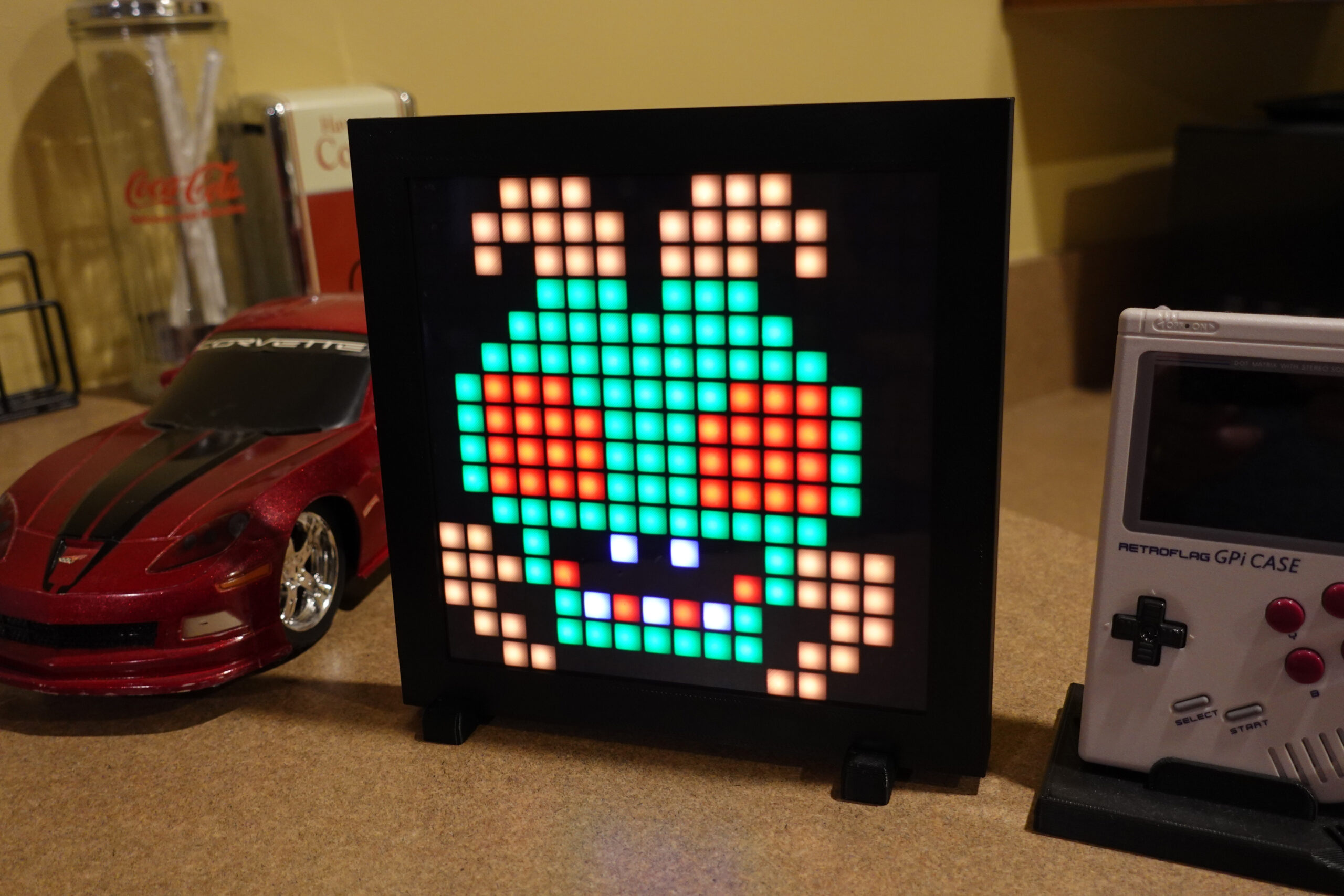 WELCOME ADRIAN'S DIGITIAL BASEMENT FANS! LED DISPLAYS BACK IN STOCK NOW!
Purchase at our ETSY Shop here
We apologize our stock on these is low. We sold out all we had at VCF Midwest and we only have a few left from our inventory here before Adrian made his video. We are just a husband and wife making all our stuff, but we are actively making more displays. If you see it sold out on Etsy either check back every so often, or email us at sales@techdungeon.xyz and let us know you want to be notified when they are back in stock.
16 x 16 programmable LED Display with over 140 images and animations ready to go. This display is great for game rooms, children's bedrooms, on a desk, or any room you would like.
The device is powered over USB-C and we offer an optional USB-C power adapter, 47″ long that has a convenient switch on it so you can turn it off or on easily. You can also use a USB to USB-C cable connected to your computer, or any USB-C charger adapter like one that comes with most new phones.
Size of display with frame is 8 x 8
LED Display comes included with feet for being able to place on a desk or piece of furniture and wire frame if you would wish to hang.
As we add new content to the device you can visit our web page for additional free downloadable updates! We plan on more pictures and animations and possibly Wi-Fi control with features like a clock mode, and more.
We also include a link to our GitHub in case you or someone you know is a programmer and wishes to write their own code for the device. We can't support the device if you run your own code, but we want to offer this option for people who want to try out programming it themselves. Great fun tool to get a budding young programmer started.
Many other devices like this out there either are battery operated and can only run for a couple hours, ours doesn't have that limitation.
You can purchase at our Etsy or Facebook Shop at the following links
Purchase at our ETSY Shop here